The Olympic Games is over again. The situation of Li Ning is much more difficult than that of the Beijing Olympics. Recently, Li Ning Company stated that: Destocking is still the primary target of this year. Li Ning Company does not want to add new inventory pressure to the retail side. From the current point of view, the retail side's operating conditions are still unsatisfactory, destocking is ongoing, but the speed may be Lower than our original goal...

June 12 Li Ning Co., Ltd. announced that its 2012 annual fair data show that the total orders volume recorded a high double-digit percentage decline, plus the next few years, the promotion costs will significantly increase and other factors, expected 2012 The net profit for the six months or even the whole year will drop by a large margin compared with the same period last year.

Among them, the amount of orders for footwear products decreased year-on-year, resulting in a low double-digit decline, while the annual decline in apparel products exceeded 20%, while the total amount of orders in 2012 will show a high double-digit decline.

At this point, among the five mainland sporting goods companies listed in Hong Kong, Li Ning's net profit has fallen to the end of the team.

Channel reform: "Need to stay out of control": "What Li Ning needs to do is to stabilize large channel providers and prevent them from fleeing."

In China's apparel industry, Li Ning's high inventory risk is not alone.

A senior person in the sports industry said that Li Ning's problems were exposed earlier and more thoroughly than other domestic brands. In 2011, Li Ning announced that it had rolled out an inventory repurchase of 300 million yuan. At that time, Anta, Xtep, 361 Degrees and other brands all claimed to have no related problems. "These problems were not revealed until the beginning of this year. That is to say, some brands may also have problems. Even bigger than Li Ning, but it may have been concealed by more secretive means."

Li Ning's exposure to high inventory problems has a considerable relationship with its channel model. "Li Ning is basically a model of channel outsourcing. The channel is shared with Nike and Adidas. Li Ning's suppliers represent both Li Ning and other international brands. This directly leads to Li Ning's relatively weak control over channels. Under the circumstances, the agents of these domestic competitors are basically only one brand and have stronger channel control," said the person in the industry. Since then, Li Ning has proposed a channel change in which large customers purchase the sales resources of less efficient customers and adjust the channel management through a series of detailed measures.

Some media sources quoted from Li Ning said that Li Ning currently has about 129 distributors and more than 2,000 distributors. The latter has an average of 1700 stores operating only one store, which is inefficient. According to Li Ning's assumption, the integration of dealers will be advanced at a rate of about five to six hundred a year.

Li Ning is not only difficult to "surgically operate" on the sales channel, but also has practical difficulties in tying the mouse. "In the retail sector, Li Ning can't overstimulate the big customers to be handed over to Li Ning. The company itself does not have so much cash to do it. At this stage, what Li Ning has to do is to stabilize large channel providers and prevent them from losing their profits. Fleeing, and it is by no means a large-scale cleansing of customers." The person in the industry bluntly said, "Due to the differences in channel models, the days of other domestic brands will be slightly better at this stage. However, Li Ning and Anta have strong channel strength in the northern and southern markets respectively. If Anta wants to surpass Li Ning in the northern market, it will have to pay a very large price, and it is difficult to surprise the opponent in a particular regional market."

Entrepreneurship of the third venture: "Now it is difficult to accurately define the market after 90"

In 1990, the Li Ning sports brand was officially established, and provided the Chinese Olympic delegation with award-winning equipment two years later. The Li Ning brand experienced its first venture; before and after the Hong Kong listing in June 2004, the company upgraded its deployment in the national strategy. The industry is regarded as the "second venture"; Li Ning's introduction of brand new slogans and brand logos in the past two years has caused the company to fall into dissent, with ** being referred to as "the typical case of negative teaching materials" and the third venture was on the verge of success or failure.

Li Ning's 2011 net profit fell sharply by 65.2%, and its revenue dropped by 5.8% to 8.929 billion yuan***. In the order data for the fourth quarter of 2011, Li Ning's orders for sports shoes decreased less than that of sportswear, because sportswear was more likely to be replaced by homogenized products. In addition to sportswear, this category would also be subject to some casual wear brands. influences. The alternative to sports shoes is even lower.

The core markets of domestic brands are in the secondary and tertiary markets. Among them, Xtep is walking between fashion and sporting goods. There are differences between Li Ning and Anta, and the market is even more specialized. And 361 degrees in the path of comprehensive sports, sports industry independent commentator Ma Gang said, "In addition to international brands, Li Ning's main imaginary enemy is Anta. In the price, Li Ning is slightly higher than Anta, and Anta is mainly in the low-cost customers It intercepted Li Ning's customers and reduced Li Ning's customer base."

The idea of ​​subdividing the consumer market after 90 is correct, and it cannot ignore the feelings of the market after the 70s and 80s. In fact, many domestic and foreign brands (including Nike and Adidas) have adopted a number of markets that go hand in hand. After all, it is still more difficult to accurately define the market after the 90s. Only by continuous trials can it be gradually accurate, Ma Gang said.

Li Ning said that at present, Li Ning will focus on core business and improve operational efficiency.

Description




1.Usage:Christmas Home Decroration,Christmas Tree Ornament

2.Characteristic:Glittering And Transluent

3.Material:High Boron Silicon Glass,Metal

4.Why We are The Best:Our material is eco-friendly,our goods have good quantity




Details Introduction:


Carefully Made

– Flawless glass baubles, each perfectly formed with a small hanging loop. The metal clip can be easily removed so that the heart can then be filled with.




Customized-
LED Glass Ball Ornament with Tree Figurine with little colored ornaments.
DECORATIVE USES: display this collectible keepsake on a tabletop or hang from the Christmas tree. Put on the fireplace mantel, window sill, book shelf or curio cabinet.
BATTERY OPERATED: Includes two sets of batteries. Colors cycle smoothly red, green and blue. On/Off switch.
UNIQUE GIFT IDEA: Give to mom, grandma, sister, mother-in-law, daughter-in-law, sister-in-law, or friend for Christmas or Birthday present.






Product Display: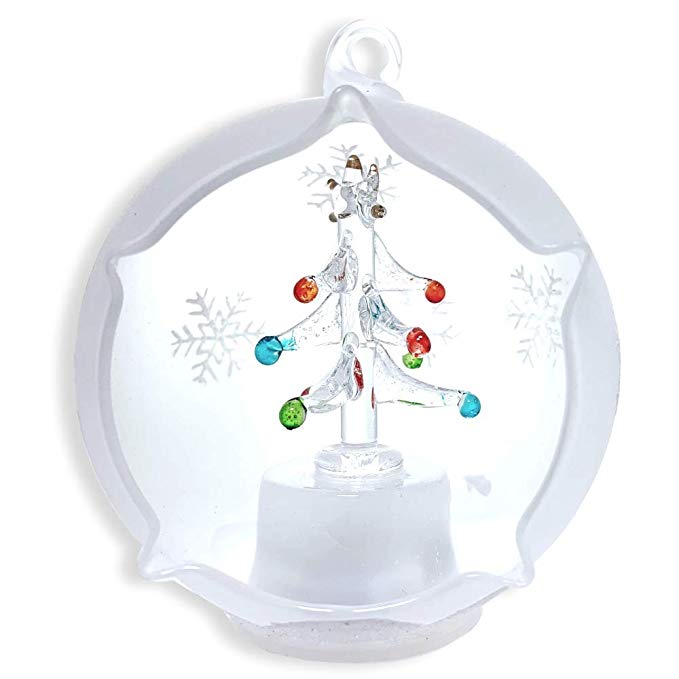 Glass Snowman Ornament,Large Glass Ball Ornaments,Snowman Christmas Ornaments,Small Glass Snowman Ornaments

BAOYING MEILIDA CHRISTMAS GLASS CRAFTS FACTORY , https://www.mldglass.com